We Have Rock Solid Hospitality Software

WE ARE HERE TO HELP YOU WITH COMPLETE RANGE OF HOSPITALITY SOFTWARE
OUR HOSPITALITY SOFTWARE ARE USER FRIENDLY AND EASY TO COORDINATE WITH BUSINESS PROCESSES FOR EACH PROPERTY. THE COMPACT INTEGRATION ALLOWS USERS TO PERFORM ALL TYPES OF TRANSACTIONS, WHICH IS FURTHER SUPPORTED BY A WIDE RANGE OF INSIGHTFUL REPORTS FROM ALL DEPARTMENTS.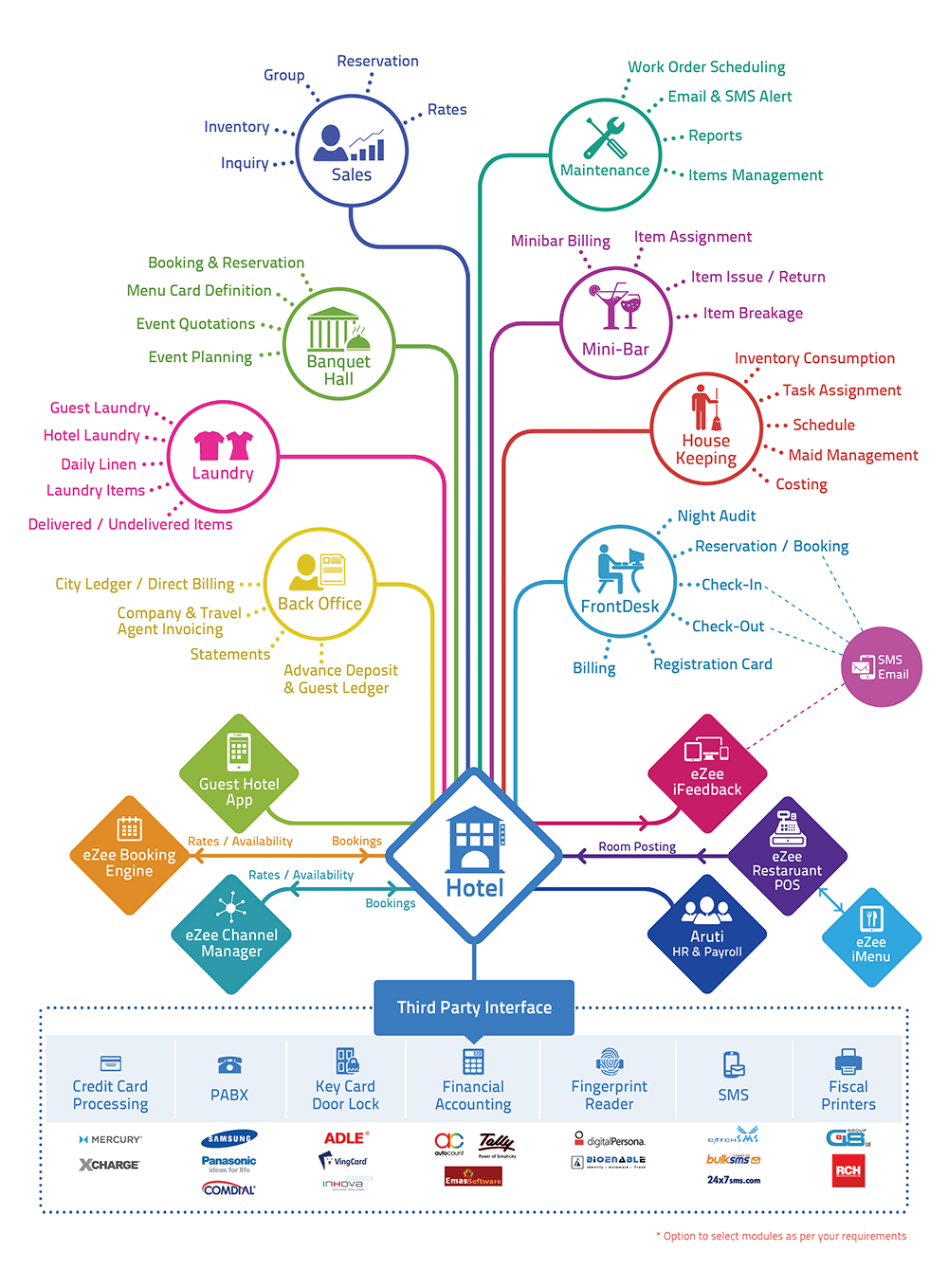 ON-PREMISE HOTEL SOFTWARE
Our hotel management software that streamlines the A-Z of hotel operations. It is a set of fully integrated modules that handle reservation, room operations, housekeeping, guest engagement, banqueting and so. Playing a significant role in increasing a hotel's efficiency and revenue, the hotel management software has become an inseparable part of hotel management.
eZee FrontDesk Hotel PMS perfectly suits the needs of various types of properties and used in hotels, motels, resorts, clubs, B & B's, small hotel franchisees, clubs, condos, hostels, apartments and more.
ON-PREMISE RESTAURANT POS
our restaurant management system helps a restaurant manage all the different types of orders, menus, shifts, tables, billings, payments and everything on all counts. Specially designed to serve and assist the F&B industry, a restaurant management expedites every operation of the restaurant and thus making restaurant management cakewalk for a restaurateur.
Restaurant Management Software is integrated with a plethora of third-party hardware and software systems. Caller ID systems, biometric devices, weigh scales, POS peripherals, financial accounting software, credit card server, PMS and much more.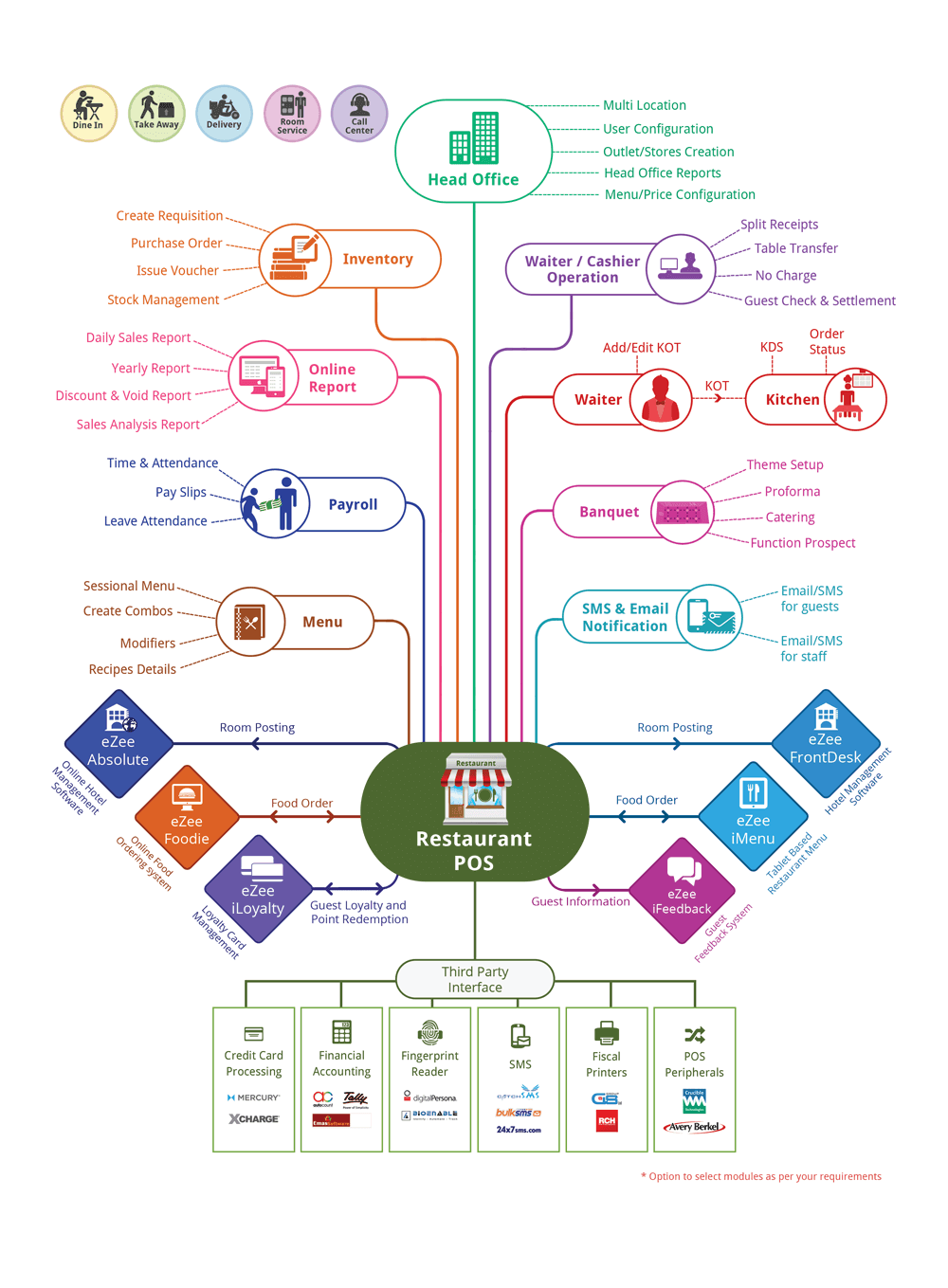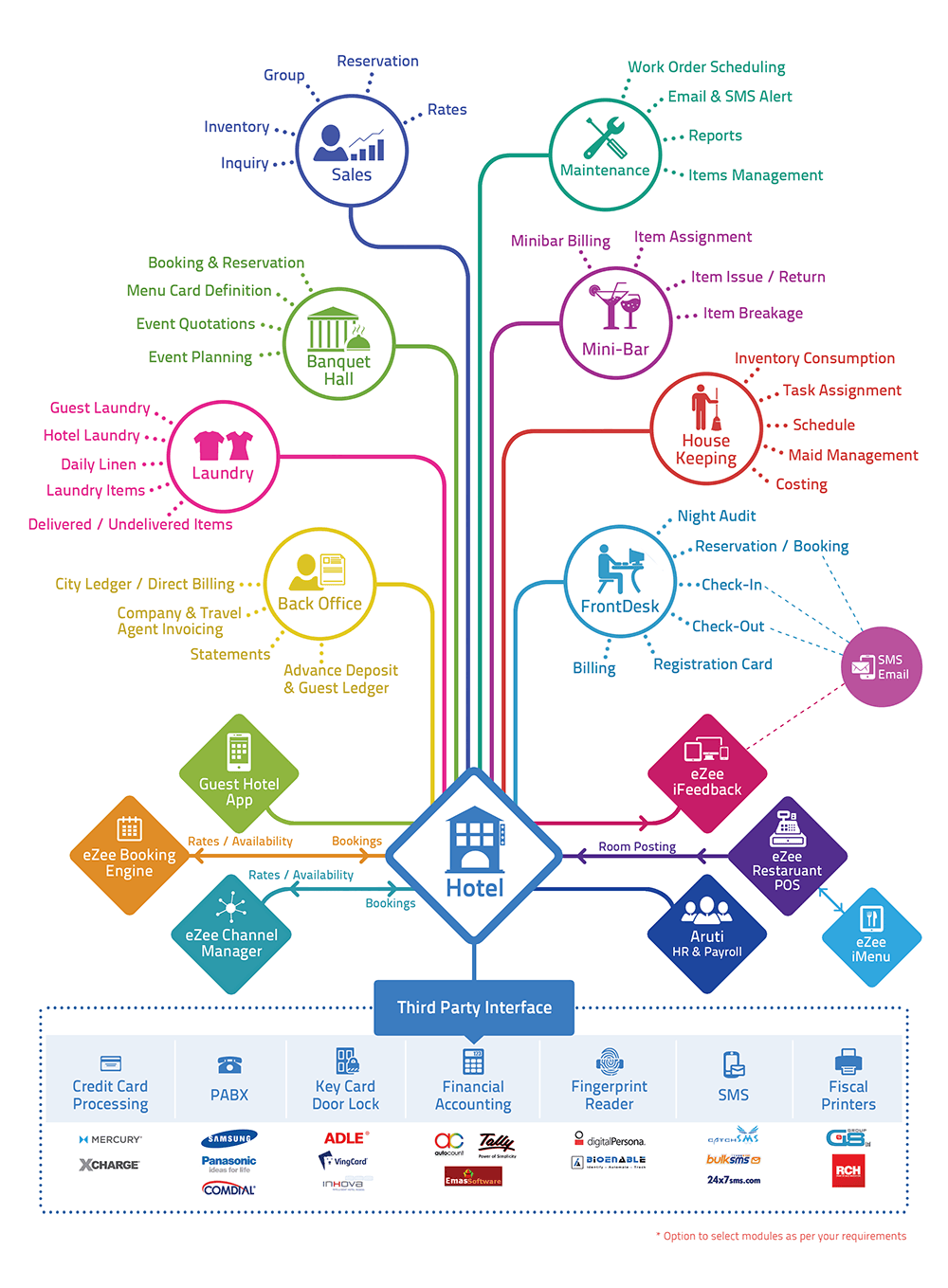 Our hotel management software is an all-inclusive system which simplifies the end to end of hotel operations such as front office, hotel reservations, billing, housekeeping, payments, and more by automating them. For that reason, this system participates in improving efficiency and grow revenue of an independent hotel as well as a hotel group. Watch this video which gives you a hotel management system introduction and tells you how it works.
A restaurant POS system is a comprehensive software which simplifies a restaurant's operations by automating them. Suitable for all types and sizes of F&B businesses like restaurants, cafes, bakeries, quick service restaurants, bars, fast food chains, lounges, night clubs and even restaurant chains; a restaurant software plays a major role in growing their business, increasing efficiency and imparting a better customer experience.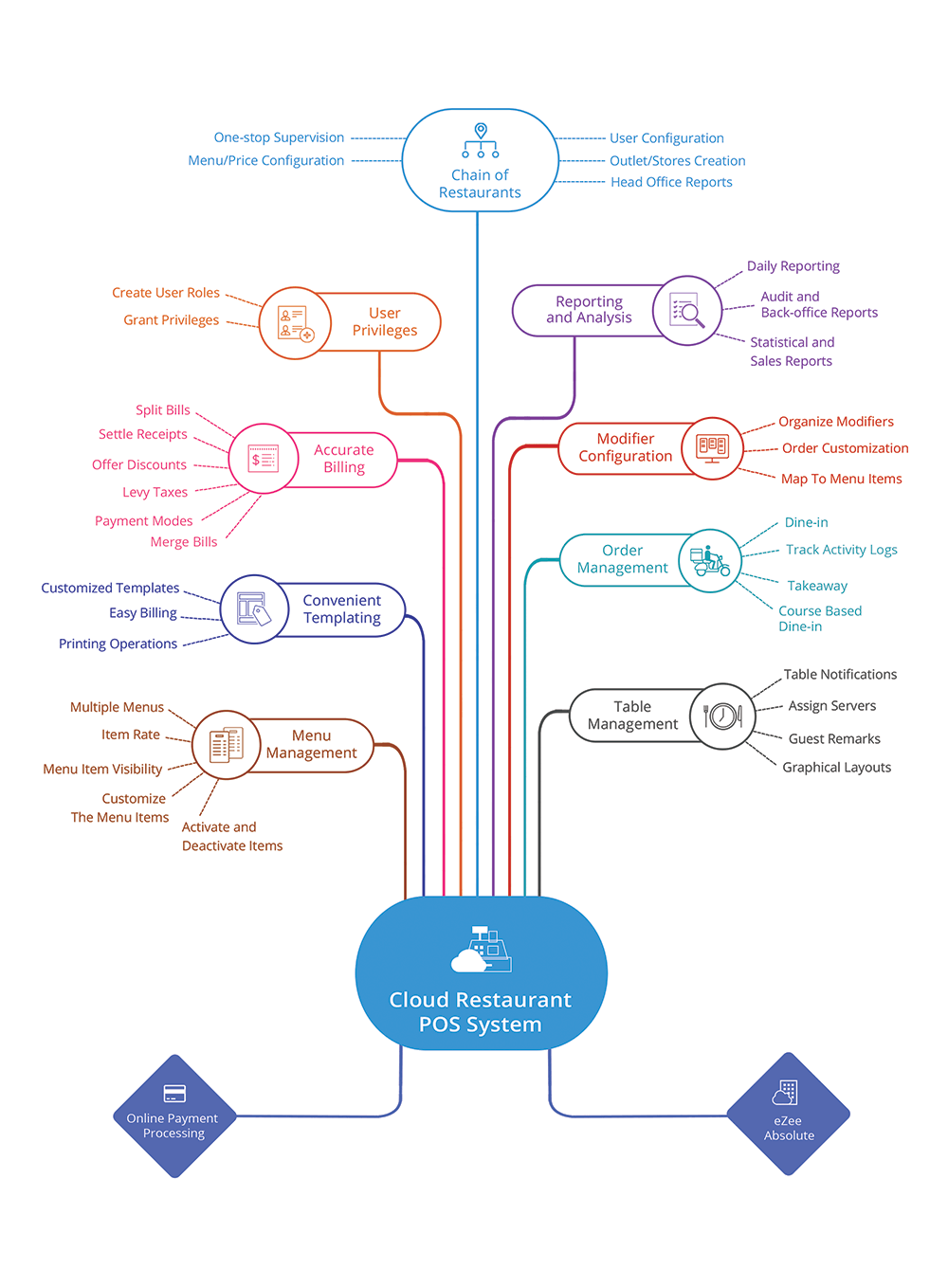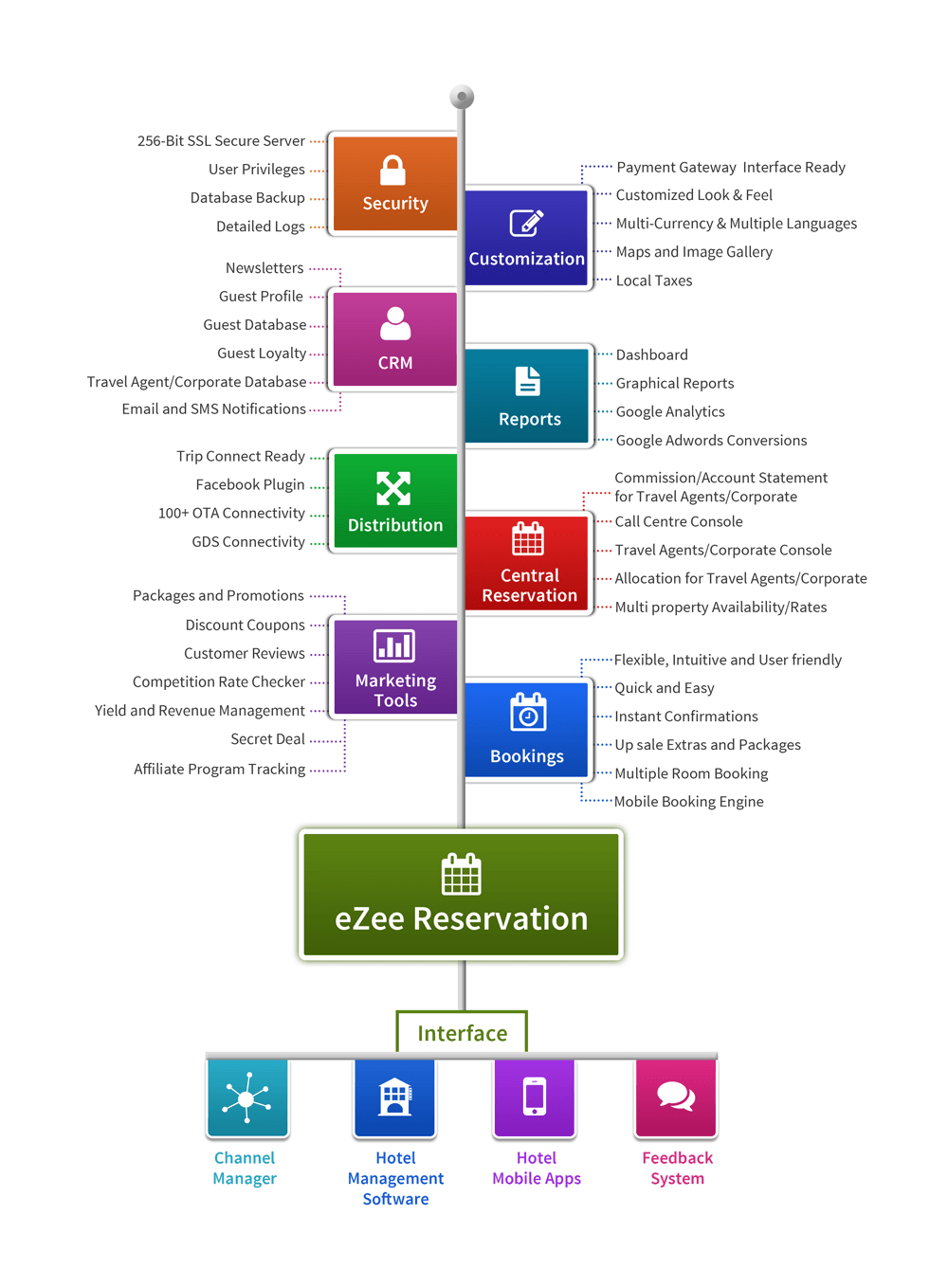 Our hotel booking engine offers your guests a quick and smooth reservation experience requiring minimum efforts while using their PC, smart phones or tablets. Generate higher revenues by allowing your guests to avail special offers, promo codes and ability to do group bookings.
This is available for those hotels or chain hotel groups, who wish to build their own availability page, utilizing the rate and availability information provided for their properties.
Not just an Online Hotel Channel Manager, But a Complete Hotel Distribution System.
Connecting your hotel with 130+ travel booking sites including best OTAs (Online Travel Agents), GDSs (Global Distribution Systems), Vacation Rentals, Metasearch Sites and more, eZee Centrix online hotel channel manager effectively automates various types of online inventory management processes while minimizing hotel over bookings, under bookings and mismatched inventory.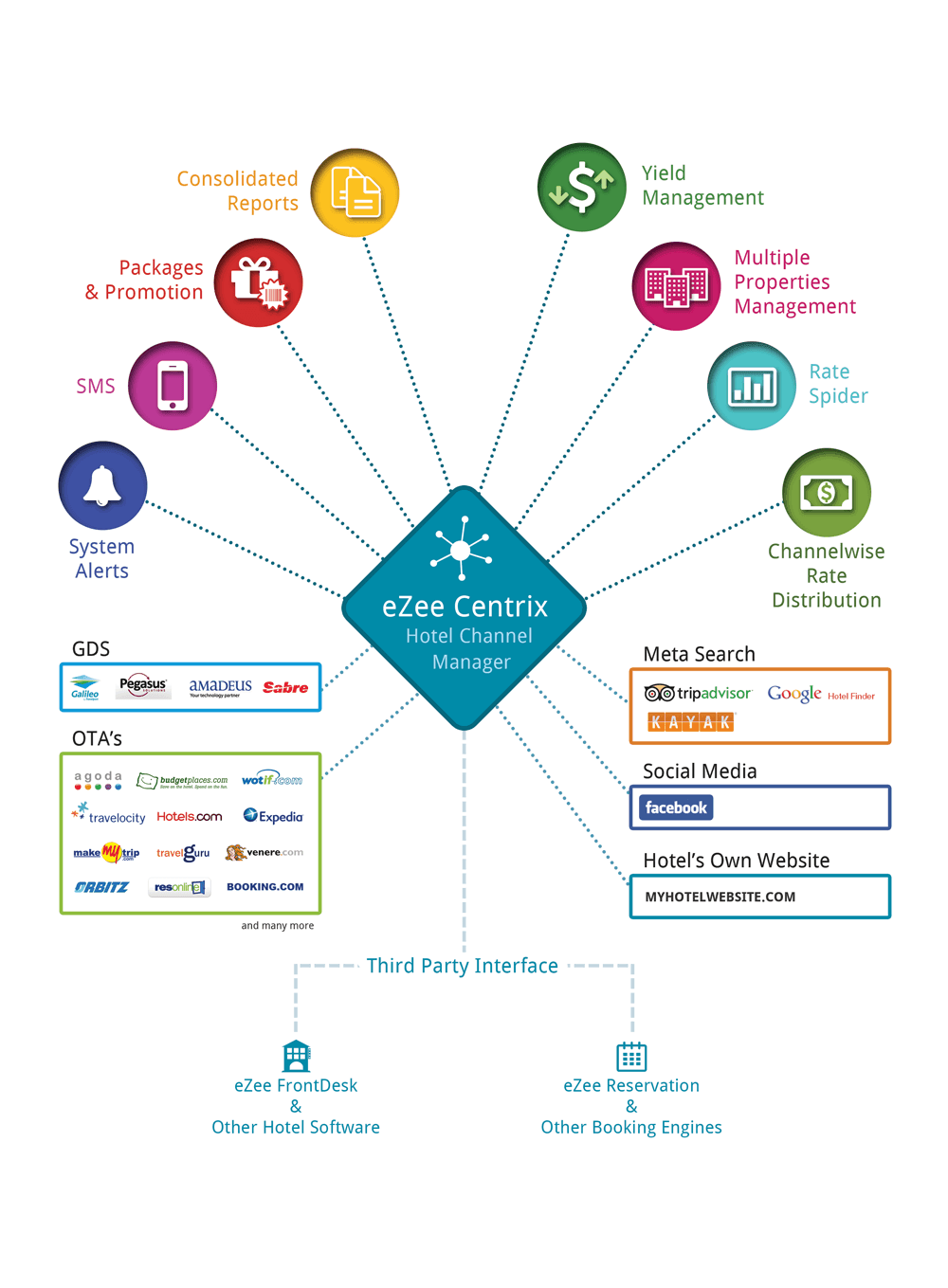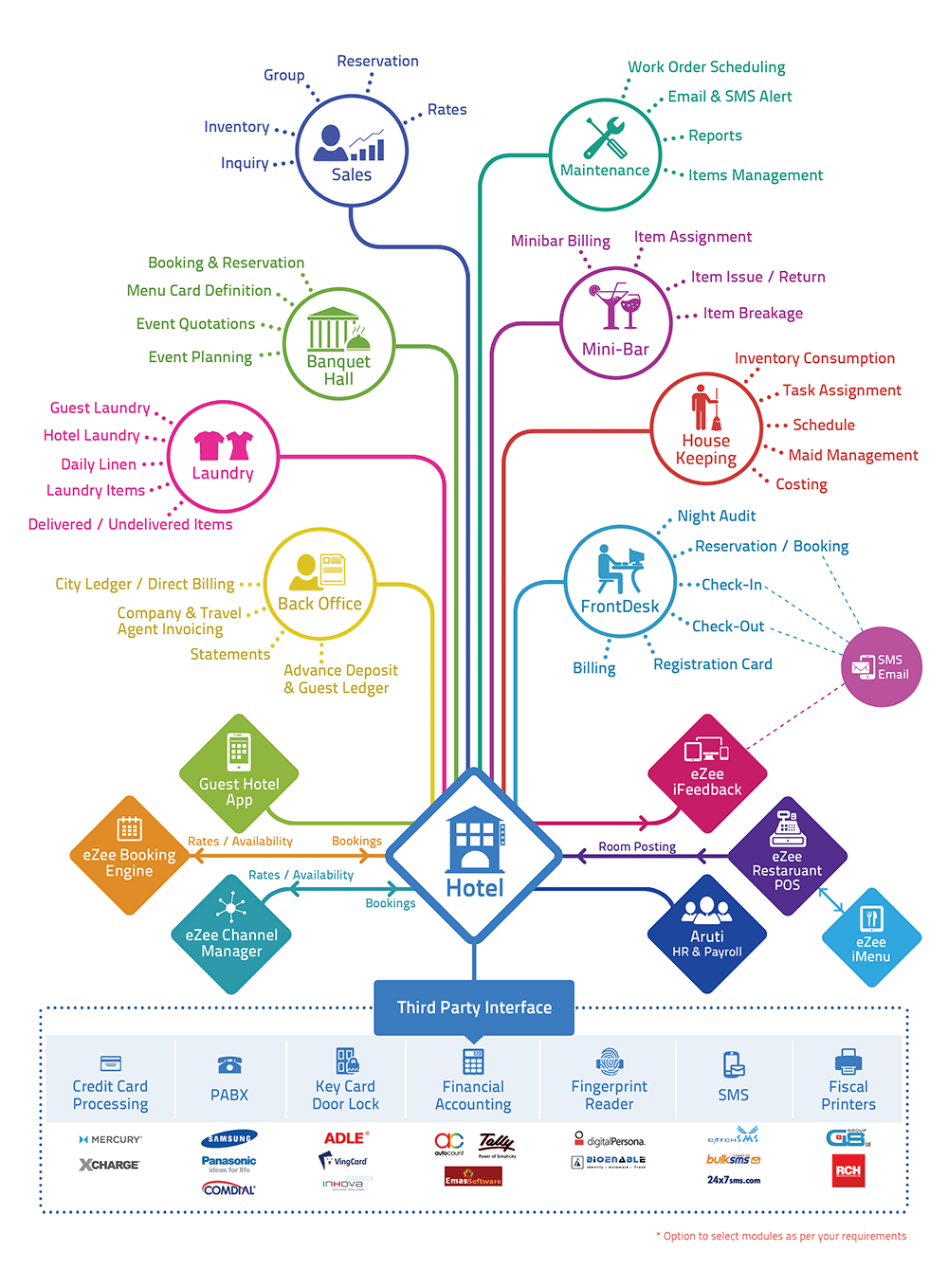 Critique by eZee is a cloud-based hotel reputation management solution that helps hotels and businesses in the hospitality sector to manage online reviews and keep track of guest experiences that are shared on various review platforms.
Critique imports reviews from various online channels including TripAdvisor, Google, reviews portals on hotel websites, Facebook, online travel agencies and more. The solution also helps users respond to guests complaints through communication tools. Additionally, Critique integrates with the TripAdvisor Review Express Program, which helps hotel managers to import reviews and perform sentiment analysis.
Hotel loyalty programs are the special programs run by stand alone hotels and hotel chains to enhance their brand value. These guest loyalty programs in hotels include offering memberships to guests. Against which, hotels provide amenities, discounts and reward points to guests during their transactions with the hotel brand.
So, basically these hotel rewards programs are one way to thank your hotel's loyal and frequent guests.